Tally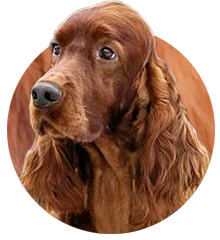 Ardbraccan Talisman - my dream about an original Irish Red Setter - and he is a real one from Ireland! Perfect Body and perfect Charakter - it's Tally. My dream come true! [Pedigree]

imp. Ireland
Date of birth: 31.07.2015

Findings: CLAD - free PRArcd1 - free
PRArcd4 - free, HD - A


Titles:
Certificates:
World Winner 2019
Champion of Russia
Champion of Greece
Champion of China
Champion of Italy
Romagna Winner
Champion & Grand Champion of Montenegro
Champion of Adria
Champion of Kosovo
Champion of Serbia
Champion of Ex-Yugoslavia
Champion of Mediterrania
Winner of Croatia Memory Cup
Champion of Austria
Champion of Ukraine
Champion of Bosnia and Herzegovina
Champion of Hungary
Champion of Romania
Champion of Poland
Champion of Bulgaria
Champion of Macedonia
Champion of Slovenia
Grand Champion of Romania, Croatia, Bulgaria and Macedonia
Croatian Champion
Slovak Champion
Junior Federal Winner Tulln (Austria)
Federal Winner Baden-Württemberg
Best Junior 10 times
Big Junior 5 times
Junior Champion of Luxemburg
Junior Champion of Croatia
Karawanks Winner (Slovenia)
C.I.B. – International Beauty Champion
C.I.E. – International Show Champion
Club Winner Germany 2017
BOB 101 times, BIG 64 times
Crufts nomination 2017, 2018, 2019, 2020
Working Certificate (II)

Congratulations on your fourth birthday, Tally!
Dog Show Results:
2019
CACIB Kaliningrad: 1x BOB and BIG 3, Res CACIB.
CACIB Danilovgrad: BOB and Best in Group 1.
CACIB Katerini: Champion of Greece, 4x BOB, 2x BIG und 2x BIS.
WDS Shanghai: World Winner; China Champion & 3x BOB.
CACIB Salgótarján: BOB ND Big 1. Hungary Champ finished.
CACIB Vicenza: 1*ecc/5 & 2x BOB.
CACIB Zaragoza: CAC, CACIB, BOB, BIG 1.
Romagna Winner Cesena: 4x 1*ecc CAC, 2x CACIB, 2x BOB.

2018
CACIB Skopje: 3x BOB and BIS-3.
CACIB Asenovgrad: 4x BOB, 1x BIG and BIS-2, 3x BIG-2.
CACIB Rijeka: 2x CAC, 2x CACIB and new croatian Grand Champion.
Budapest Winter Dog Show:Res CAC, Res CACIB, V1 CAC, CACIB, BOB.
CACIB Slovenia Winner: 2x CAC, Res CACIB.

2017
Zagreb Winter Classic: in Champ Class EXC V1, EXC Reserve and EXC V1; Best Dog and BOB; Winner of Croatia Memory Cup.
World Dog Show Leipzig: BestCouple-3 of the Show and BestCouple-1/Irisch Setters (with Maggy).
Carpathian Pearl Uzhorod: 3x BOB, 2xBOG-1, 1x BOG-2.
Dracula Dog Show Târgu Mureș: 2x BOB, 2xBOG-1, 1x BOG-2.
CAC/CACIB Mechelen: V1, CAC; Best Male, CACIB, BOB and BIG 2.
IHA Česká Lípa: V1, BOB, BIG 1 and BOS 2.
IHA Częstochowa: V1, CAC.
IHA Sarajevo: BOB, BIG-1 and BIG-2.
CACIB Bled: V1, CAC, CACIB, Best Male and BOB.
CACIB Kraków: V1, CAC.
SRA Stuttgart: V1, CAC, BOB, BIG-1 and Best in Show.
CACIB Zadar: 4-times: V1, CAC, CACIB, BOB; 2x BIG-3 and 1x BIG-2. Supreme Handling: 1st place. IHA Salzburg: EXC V1, CAC, CACIB and BOS
CACIB Bratislava: Exc V1, CAC, CACIB
IHA Graz: Exc V1, CAC, CACIB, BOB and BIG-2
-->